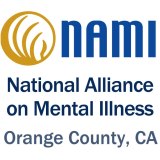 The start of 2013 – the time to pause and reevaluate how you're doing. [The National Alliance on Mental Illness, Orange County, California (NAMI-OC) is no exception. I work with NAMI-OC and want to take this opportunity to discuss some of the challenges that non-profits in mental health, particularly NAMI-OC, are facing, ways you can help, and the future.
To figure out how to move forward, we look back at our struggles. Unfortunately, a large part of the problem boils down to stigma and lack of understanding. Too large of a population does not understand mental illness and still believe that mental illness is a choice, a personality flaw, or due to poor upbringing. They do not hold the same empathy and compassion for people affected by mental illness, as those affected by other physical conditions. As a result, people are drawn away from donating to mental health causes and research, grant opportunities are limited, and resources are stretched. To dig out of this hole, a paradigm shift is required: one where mental illness elicits the same kind of empathy and emotions as other painful chronic conditions.
At NAMI-OC, we are facing other challenges as well. First, there's the issue of manpower. We need to fill more management positions in order to grow, which requires increased funding. We utilize many volunteers but can lose consistency in our services since volunteers come and go. In today's technologically dependent society, we also need to recruit volunteers with more advanced technical skills for tasks such as managing social media (that volunteer must be very special) and maintaining website content.
Then comes the issue of expenses. All NAMI-OC educational services and programs are offered for free, but they do come with a cost to the organization. We need to hire and train more teachers for programs such as the Peer-to-Peer recovery course, which is aimed at helping individuals affected by mental illness learn to recover and manage their illness. We want to be able to continue providing stipends to the courageous individuals who share their mental illness story with the public—one of the most effective ways to help reshape attitudes and eliminate stigma—through a program called In Our Own Voice. We must continue NAMI-OC's Warmline, a phone line open 18 hours a day, seven days a week, that people in need call to get resources, support, and a warm, friendly ear to listen to them.
The next issue has to do with marketing. In truth, if you walk up to someone in the middle of Orange County, it is most likely that they haven't heard of NAMI-OC. Getting our name and mission out there is a way to increase community awareness of mental health issues and involvement in our programs. People who know about us are likely to be familiar with the programs and resources we offer, and can direct people struggling with mental illness, or their family members, to NAMI to get help. They'll understand that mental health issues are as real as other illnesses (or at least know where to go to debate about it if they don't agree).
What can you do to help? There are a few things:
Donate. Your support is essential to help us continue our programs, including Family-to-Family, Peer-to-Peer, and Basics courses, Connections support group, In Our Own Voice presentations, and Faithnet.
Become a member. Every new member will make our voice louder. The more people we represent, the stronger our voice will be in the local and state legislatures.
Volunteer. A helping hand can make all the difference, from helping us seal thousands of envelopes to managing NAMI-OC's social media (again, must be a really special volunteer).
Spread the word about NAMI. Tell friends and family members about us andset an example of being able to talk about mental health issues.
Like our (Facebook page)www.facebook.com/NAMIorangecounty and follow us on (Twitter)twitter.com/NAMIOC.
Wishes for 2013? That everything cost $0 and mental illness be nonexistent. Not the most realistic wish. But from where we stand, we can make some positive predictions.
There is a heightening awareness of mental health issues, helping people learn to "live well" with the challenges of mental illness. Stigma is slowly decreasing and more people are "coming out" about their mental illness due to better education. In light of the recent tragedies, interest in mental health has increased. People are learning about our country's broken mental health care system, about hospital beds in psychiatric facilities disappearing, about streets and prisons becoming the new normal for those with mental illness. But they are also learning that with early recognition, intervention, and treatment, many lives can be transformed and tragedies caused by those with untreated mental illness can be prevented. Those who can get treatment are finding recovery and more people are beginning to speak out.
As for me – NAMI-OC means a lot to me, and my family. They've helped us find recovery, after six grueling years. I credit them with saving my life and try to repay this debt through my work at NAMI-OC and as a teacher for the Peer-to-Peer course. I know NAMI-OC will reach many, many others as well.
My overall prediction for 2013 is: The future looks bright!
Please visit our website at: www.namioc.org.
Join & share your views, experiences, and insights @MHChat every Wednesday 8:00 PM GMT / 3:00 PM EST / 12:00 noon PST. This Wednesday (23 January 2013), we'll talk about "Stereotypes" and look forward to seeing you there @MHChat.