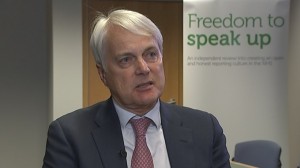 When Jeremy Hunt announced in June 2014, that there would be an independent review into whistleblowing , I felt down beat about it. Others were more positive, but my instinct was that this would be yet another disappointment. Yet I kept an open mind. We worked our socks off to ensure that Sir Robert Francis heard stories from some of the whistleblowers, who are currently suffering. We wanted him to know that this wasn't only about historic cases but is ongoing. (Patients_First_Submission_to_the_Freedom_to_Speak_Up_Review___(corrected)).
Patients First narrative has now been accepted. Not only was our narrative heard and understood, it was reinforced by surveys, and hundreds of other submissions and testimony. Bullying of staff who speak up is rife in the health service, and we are not (as the mythology had tried to convince us), protected by law.
Just a few years ago, whenever any whistleblowers stories were reported in the press, this line would be spun. "Whistleblowers are legally protected". That myth has now been shown to have been a fantasy.
I have read and digested the report. Whilst pleased that our perspective has been accepted, and Sir Robert has highlighted some of the system gaps, I feel concerned that he did not recommend our number one request a "judge led" Public Inquiry.
The report highlights that the law is at best " limited in its effectiveness". He highlights that some vulnerable groups had not been provided with adequate support or legal protection, notably student nurses, primary care and (I also recently discovered junior doctors). How many patient safety concerns have been raised by this group with no clear lines of responsibility to have them heard and investigated?
Sir Robert Francis also confirmed that whilst individuals can make disclosures to the system regulators regards patient safety there is a gap in their protection. He has highlighted that very few senior people seem to have been disciplined for bullying whistleblowers, but is sympathetic to the pressures on senior managers. This is hard for a clinician to understand given that we live in fear of our professional regulators.
My guess is that the vast majority of clinicians will be vaguely aware of the review, will not see any difference in their daily lives. Day in day out staff are raising concerns, many are ignored or dismissed, and far too many are never given much thought, as all parts of the system creak under the strain of relentless workloads. As someone who has been campaigning for system change, I want to understand more about why the system finds it so hard to listen and act. It seems so obvious that listening is the sensible option
How many patients safety concerns were disclosed to Sir Robert, and what were the nature of those concerns? Have those concerns ever been fully and independently investigated? How did different parts of the system respond, or are responding to those concerns? Are any parts of the system working as they should regards whistleblowing, and where is radical change needed? How could the law be strengthened to reduce the level of bullying and harm that we hear about so often.
How can we support individuals who have suffered great personal and professional harm have their stories heard and some form of practical redress be found for them. I want to understand more about the ways that blacklisting occurs. We recently discovered that the electronic staff record ( ESR) holds information confidentially on employees. This might be a vehicle whereby the NHS effectively blacklists a whistleblower. There are other ways via the recruitment system, and interviews, and I want to learn more about those processes, so we can change them.
Sir Robert Francis told the individuals who had been campaigning for change that his review was not going to look in detail at individual cases, and that it was selfless of us to give our time to inform his review. That was accepted but we all felt strongly that a Public Inquiry would be necessary, alongside some sort of restorative justice process.
That was said at the outset.
Of course putting in some changes to try and facilitate cultural change now are positive, but if we are not careful we can miss something important that we have yet to understand, so for patient safety the Public Inquiry is essential still in my view.
Refusing a Public Inquiry like saying to victims of child sexual abuse, thanks for coming forwards, we will make sure that a reporting system is in place for the future, but we don't want to hear any more from you? That would be rightly unacceptable.
This is no different.
Dr. Kim Holt (@drkimholt) founded Patients First a campaign for openness and transparency in the health service, They can be contacted via email or Twitter @PatientsFirstUK.
Join and Share your views on Whistleblowing and Safeguarding of Services @MHChat on Wednesday 8:00 PM GMT / 3:00 PM EST. Click here for your local time.
Click here to join the chat and include @MHChat and hashtag #MHChat in your tweets so everyone @MHChat can see you tweets.