What are the effects and the human cost of austerity and cutting public spending and services? Join and share your views @MHChat (Wednesday, 28 October 2015).
Click here to see the chat time in your local time.
Sanjay Basu and David Stuckler, the authors of In The Body Economics, examined health and economic data over decades and concluded that austerity was bad for both physical and mental health. Examining the suicide rates in the United States they argue that while suicide rates were slowly rising since 2000, we can observe a jump during and after the 2007-9 recession. They suggest that for the period 2007 to 2010, there were an estimated 4,750 "excess" suicides  that is, deaths above what pre-existing trends would predict and that rates of such suicides were significantly greater in the states that experienced the greatest job losses. Deaths from suicide overtook deaths from car crashes in 2009.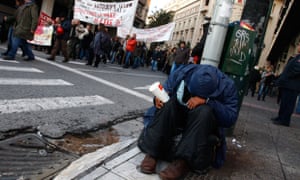 Photograph Reuters
Another study links the recession with over 10,000 suicides across Europe and North America between 2008 and 2010.
In their article How Austerity Kills David Stuckler and Sanjay Basu state that
If austerity were tested like a medication in a clinical trial, it would have been stopped long ago, given its deadly side effects. Each nation should establish a nonpartisan, independent Office of Health Responsibility, staffed by epidemiologists and economists, to evaluate the health effects of fiscal and monetary policies.
Regardless of country, research suggests that: economic strain contributes to mental health difficulties and this is especially acute during recessions, when unemployment and poverty tend to jump.
Furthermore, people who experience mental health difficulties are likely to suffer disproportionately in times of recession, not only because funding for services might be cut, but also because they are at higher risk of losing their jobs.
Therefore, in the next #MHChat we will discuss austerity and its effects and will explore the human cost of austerity.
What are some of the effects of austerity on services in general and on mental health services in particular?
What is the human cost of austerity?
Austerity is supposed to lead to healthier economy and eventual greater prosperity, the question is prosperity for who?
Are we giving up the future through austerity to pay for the mistakes of the past?
What are possible alternatives to austerity?
We will explore these and other relevant questions about austerity and its effects in our next chat @MHChat.
The chat on austerity is in collaboration with Wellcome Trust and Mosaic Science and we look forward to your views on austerity and its effects @MHChat (Wednesday, 28 October 2015).
Click here to see the chat time in your local time.